For those who have a wedding coming up, and those who are just simply planning their dream wedding – designing your wedding look is a crucial element to making your day memorable. After all, it's not the food or the guests or the vows you'll back upon – you will be hanging up photos of yourself with your partner, and your wedding style is something you will be looking at and showing off for pretty much the rest of your life.
However, picking jewellery for your wedding style isn't going to be an easy task. You need to put together pieces that will add just the correct amount of glimmer to your look without overpowering your wedding dress. Here's our selection of 10 awe-inspiring jewellery for brides that you might want to put a pin on!
1. Studded Tiara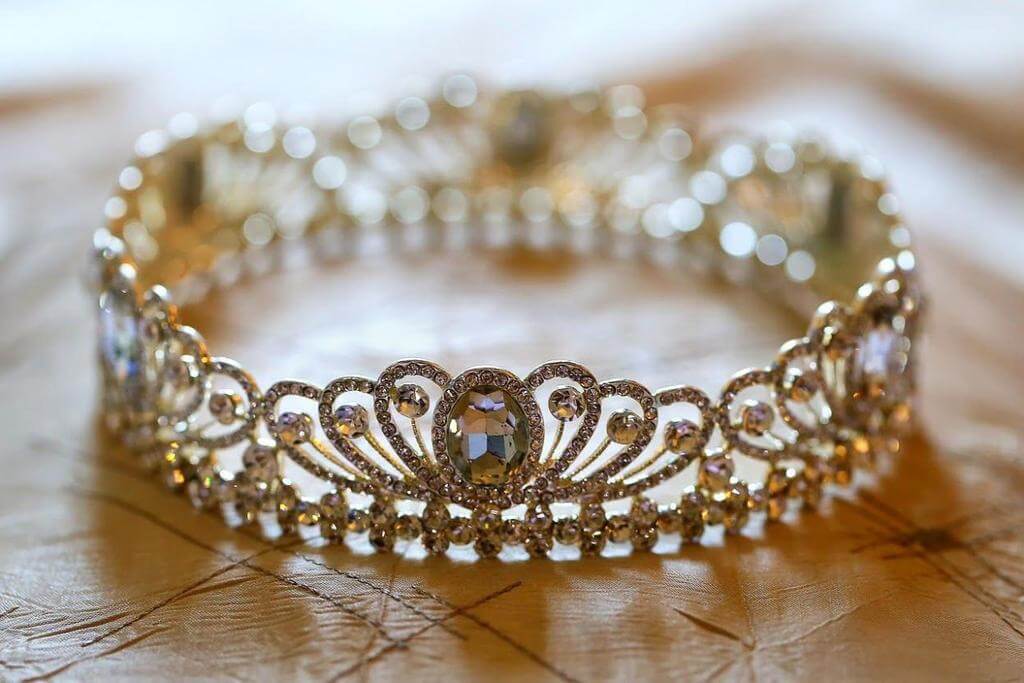 Your wedding is your big day and you should feel no less than a queen on your day. A studded tiara worn over or even without the veil makes for a gorgeous hair ornament and a wedding keepsake you'll cherish forever. Tiaras can also make for a fantastic heirloom to pass on to your future daughter!
2. Zircon Jewellery Set
Spent most of your budget on the dress and venue? Can't afford a diamond set that would go perfectly with your look? Fret not, and choose to go with a zircon jewellery set. Equally gorgeous, sparkly and light both on the skin and the pocket. A simple set of necklace, bracelet and earrings will do the trick! 
3. Pearl cuff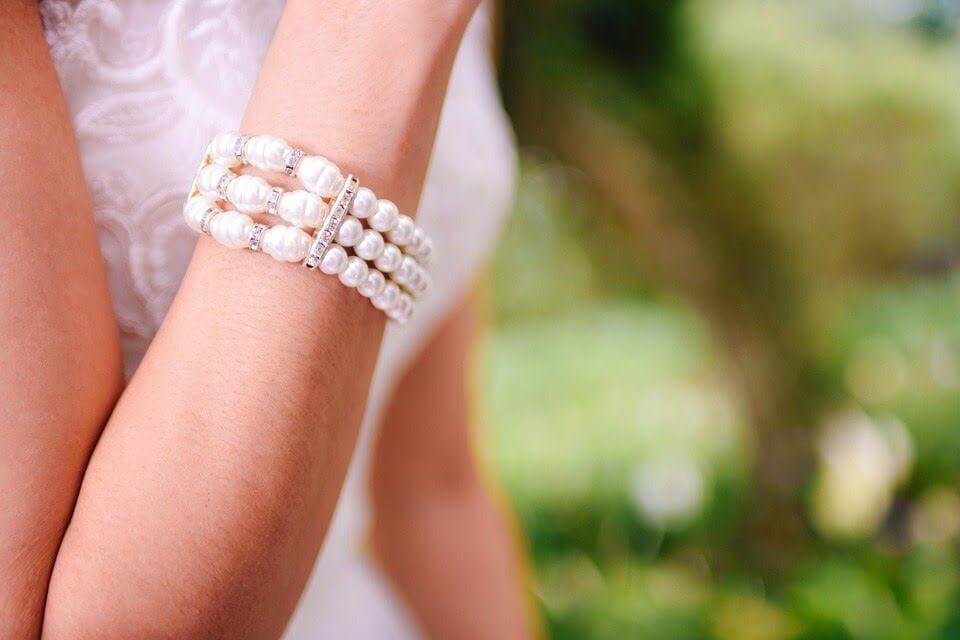 Pearls are the classic statement pieces when the statement you want to make is elegance. Wear a pearl cuff bracelet on your right hand, so that the wedding band doesn't have to share it's limelight.
4. Sparkling hair brooch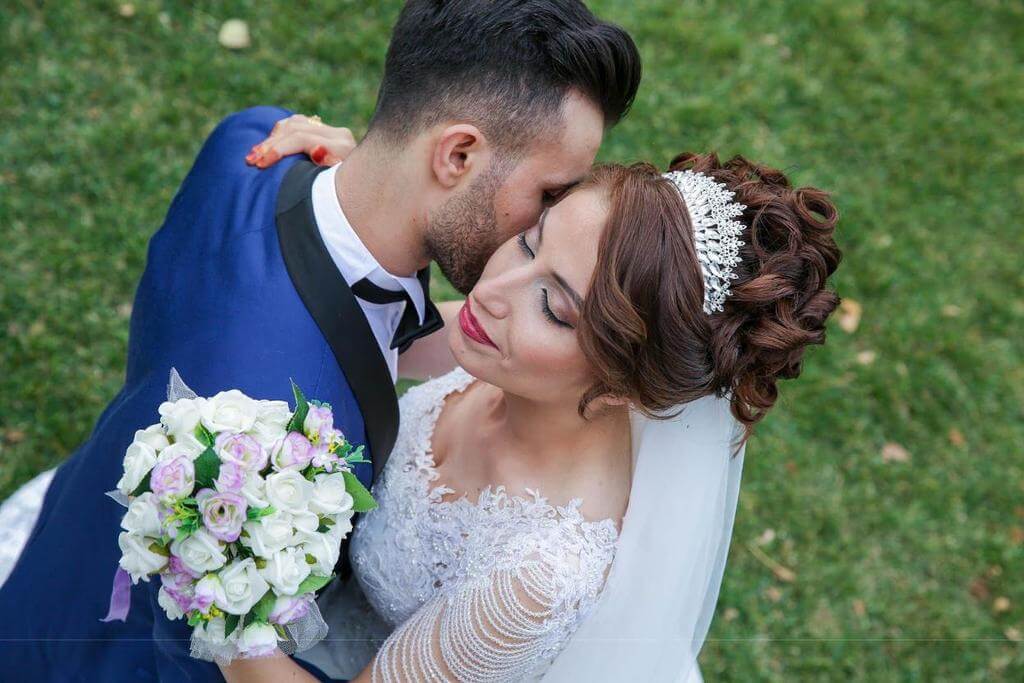 If a full blown tiara or crown seems a little over the top for you, then why not go for a sparkling hair brooch instead? Get the princess charm without having to worry about being extravagant.
5. The four piece studded gold set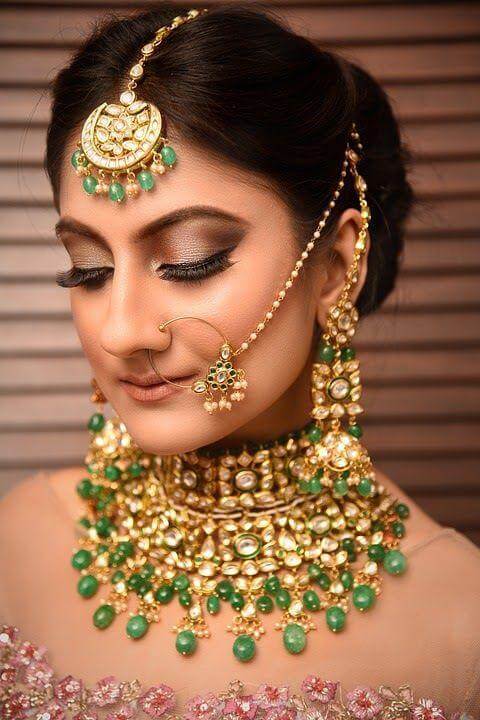 This one is a special mention for all the South Asian brides who are looking to go all out with their wedding look. Choose an emerald studded ​kundan ​jewellery set featuring necklace, earrings, nose ring and ​maang tikka​(an Indian variety of hair brooch). Emerald will go practically with all the standard South Asian bridal outfit colours – so remember, when in doubt, go green!
6. Designer bracelet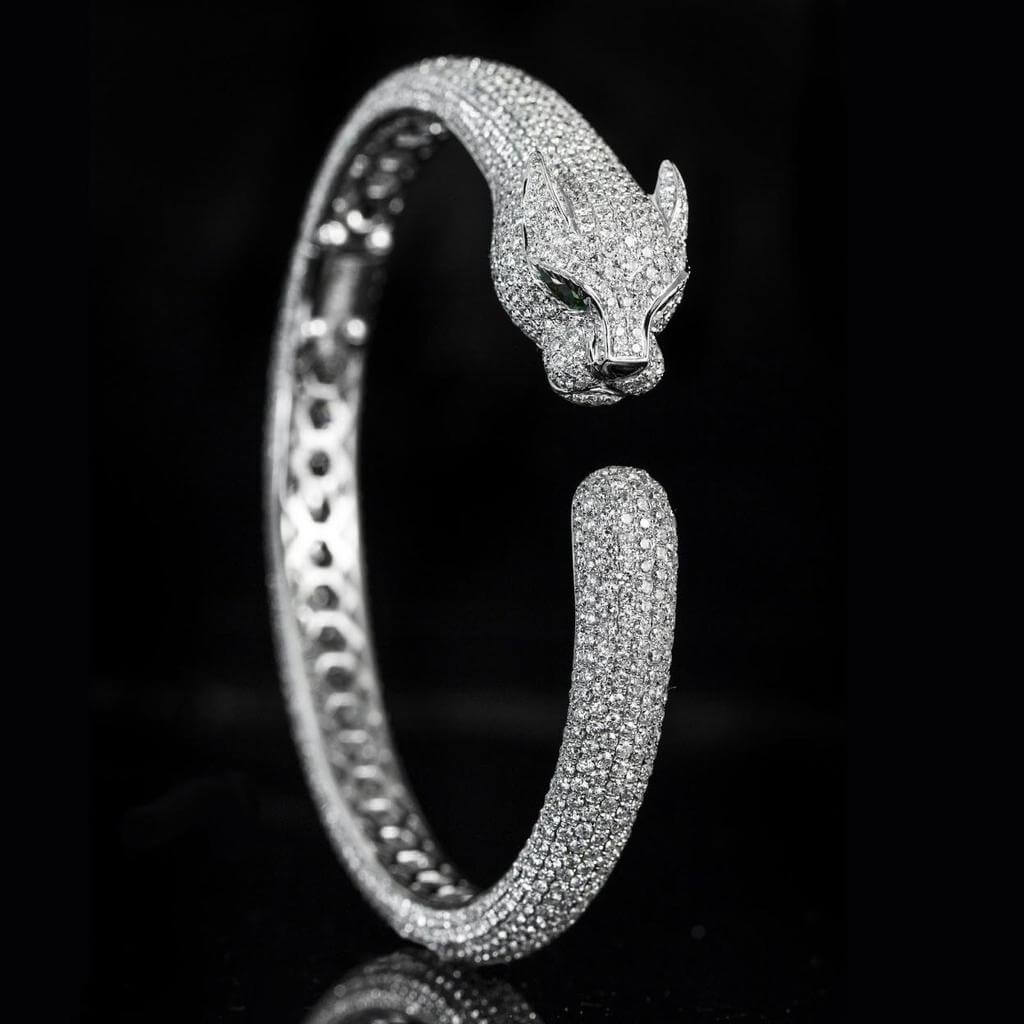 If not for your wedding day, then when else are you going to splurge for yourself? Get your hands on a luxurious designer bracelet – and this one you better wear on your left hand so that it's visible in all the important photographs.
7. Pearl & Rhinestone Set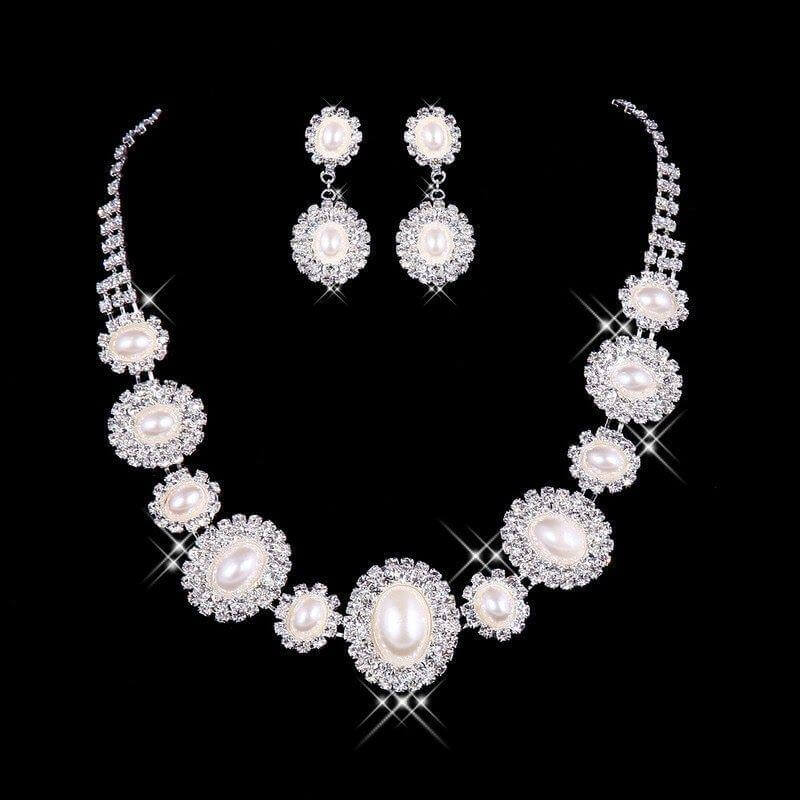 This exquisite pearl and rhinestone necklace paired with matching earrings are bound to make you feel like a million bucks.
8. Diamond and silver danglers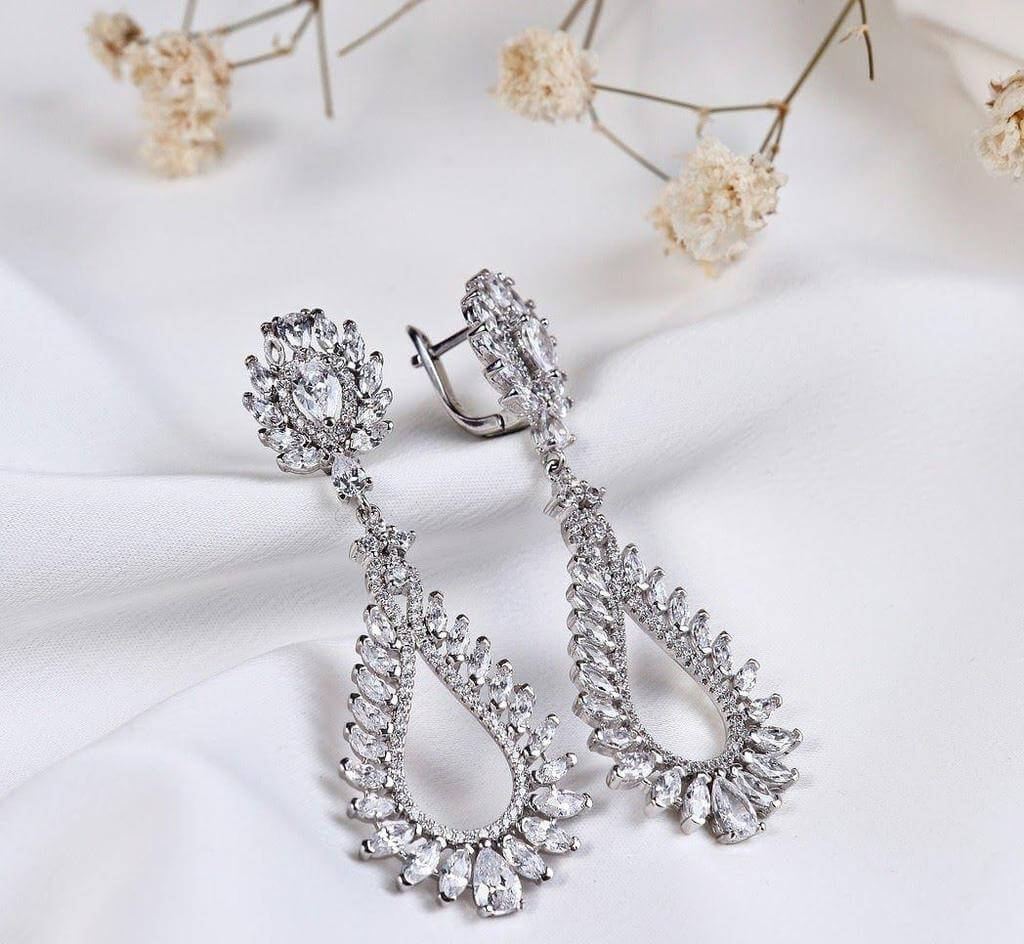 If you've got a high neck wedding dress and just want the perfect pair of earrings to complete the look, then go for a pair of silver based diamond danglers. These earrings will add all the sparkle you need, without taking away the spotlight from the rest of your look.
9. Princess Necklace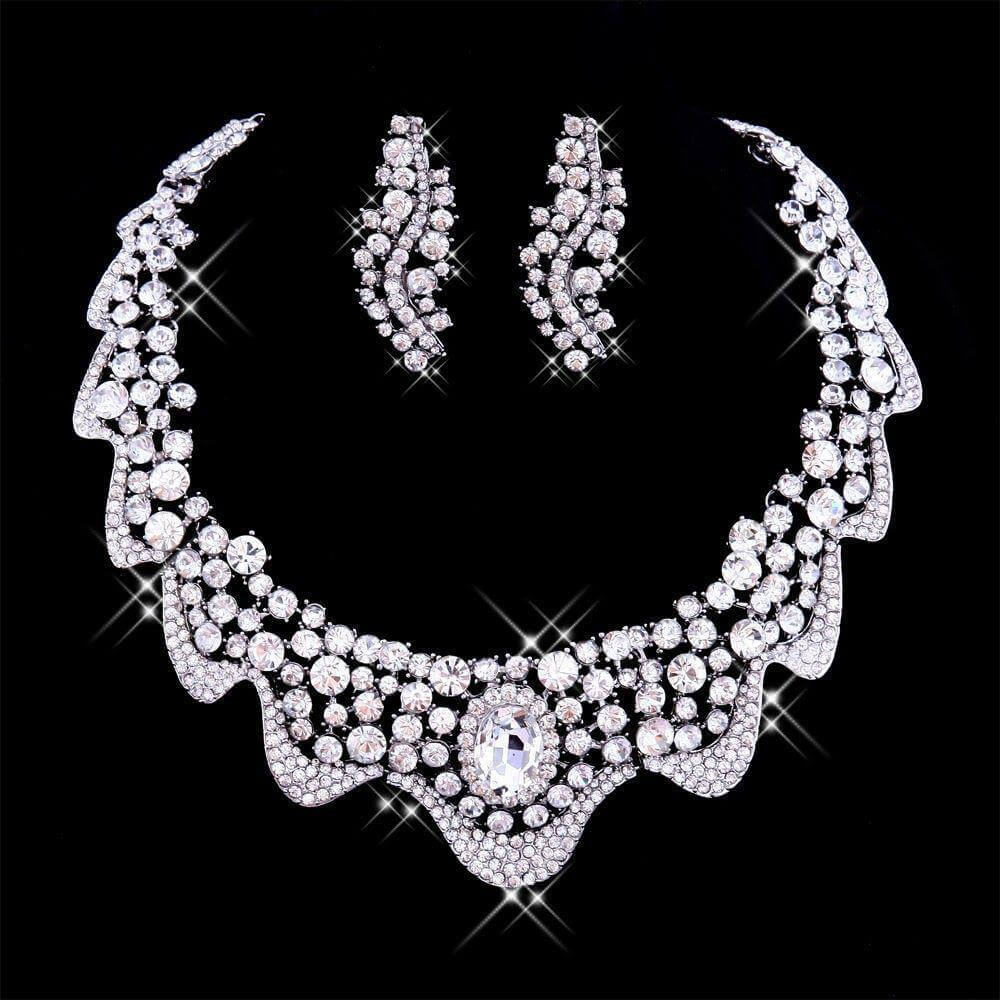 An upscale rhinestone necklace that imitates diamonds is the perfect choice for all those brides who want to glam it up but also not go broke while at it.
10. Layered Pearls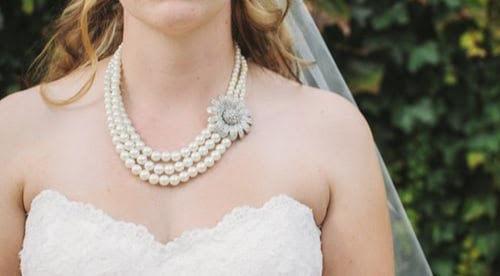 Did we already mention just how classy and elegant pearls are? There's no going wrong with a layered necklace made of pearls – especially if you're wearing an off shoulder dress!