Necklaces for women come in practically all shapes and sizes –  something for every style, occasion and budget. There are various types of necklaces out there and we are here to give you the low down on 21 different types that will help you channel your inner fashionista.
1. Pendant Necklace
A must have for all jewellery lovers, pendant necklaces are one of the most versatile ornaments that not only enhance your style statement but also allow you to show off your personality. Some trending styles include the tree necklace, moon & stars, bars and stones such as Labradorite and Lapis Lazuli. Gold vermeil and 18 carat gold necklaces are popular metal choices and these pendant necklaces are suitable for pretty much all necklines.
2. Choker
A snug clasp around your neck, the choker necklace can be made of metal, ribbon, velvet and even leather. This type of necklace is best suited for off for U-neck and off shoulder necklines.
3. Collar Necklace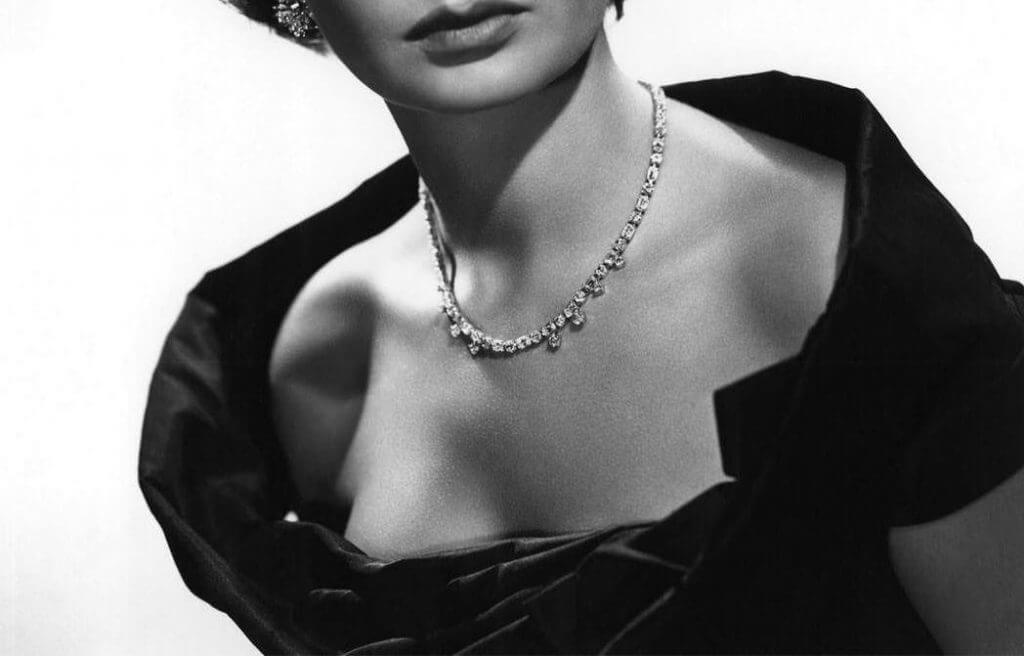 Collar necklaces are a great choice for off-shoulder necklines as well as boat neck and even turtle neck. Sitting gorgeously around your collar region, these necklaces can lend an elegant sophistication to your evening wear.
4. Charms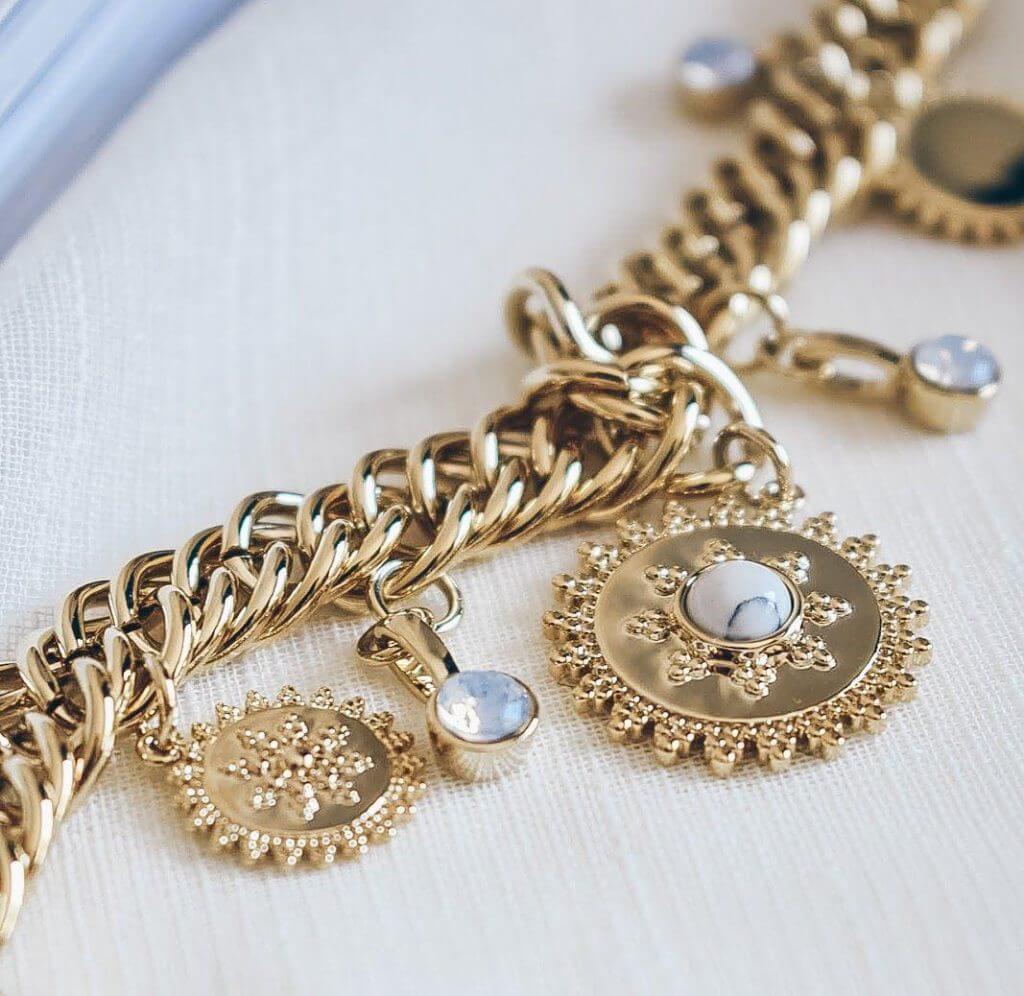 Charms are a bold way to express your personality, and a chunky charm necklace is sure to take the spotlight as the centerpiece. At an average length of 24" these necklaces can be paired with solid colours and all necklines.
5. Opera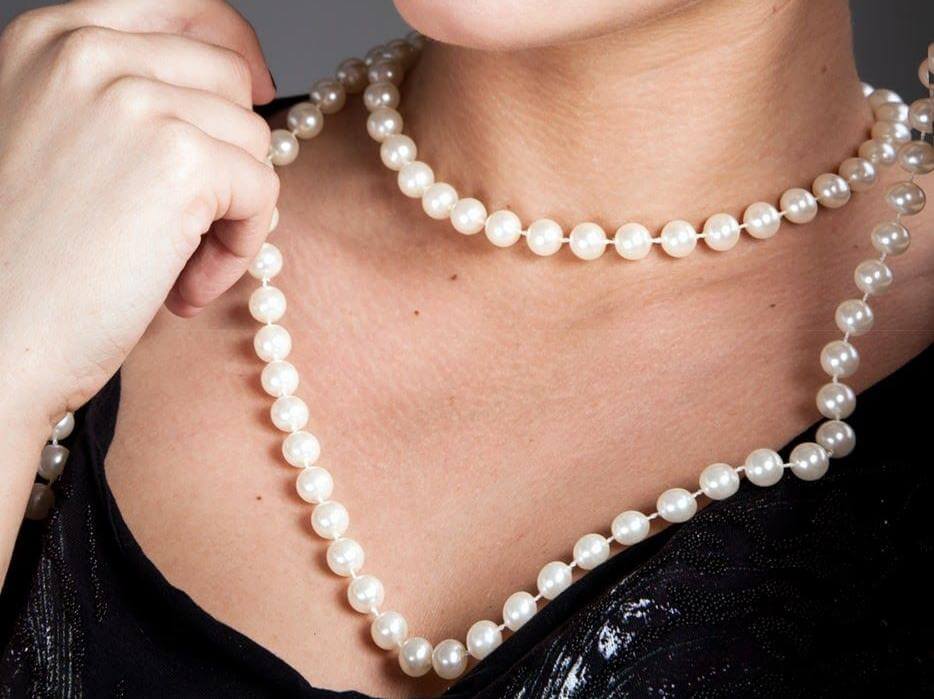 The perfect necklace for those looking to add just a tad bit of drama to their attire. Opera necklaces range from 30" – 36", and can be worn as it is or looped around the neck. They are made of pearls or beads and work well with turtlenecks, high necks as well as scoop necklines.
6. Matinee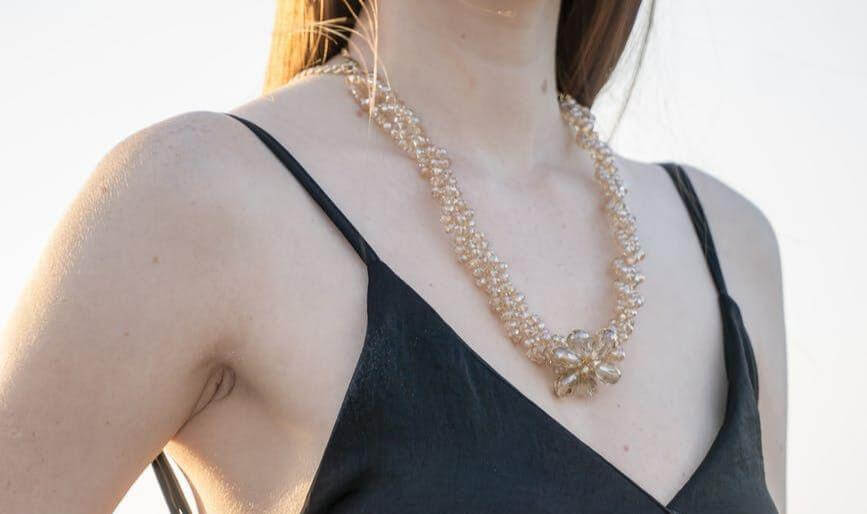 Ideal for plunging necklines, matinee necklaces are between 22"-24" in length and can easily be paired with formal attire. Usually made of beads and stones, these necklaces are shorter than opera necklaces and sit just about the bust.
7. Locket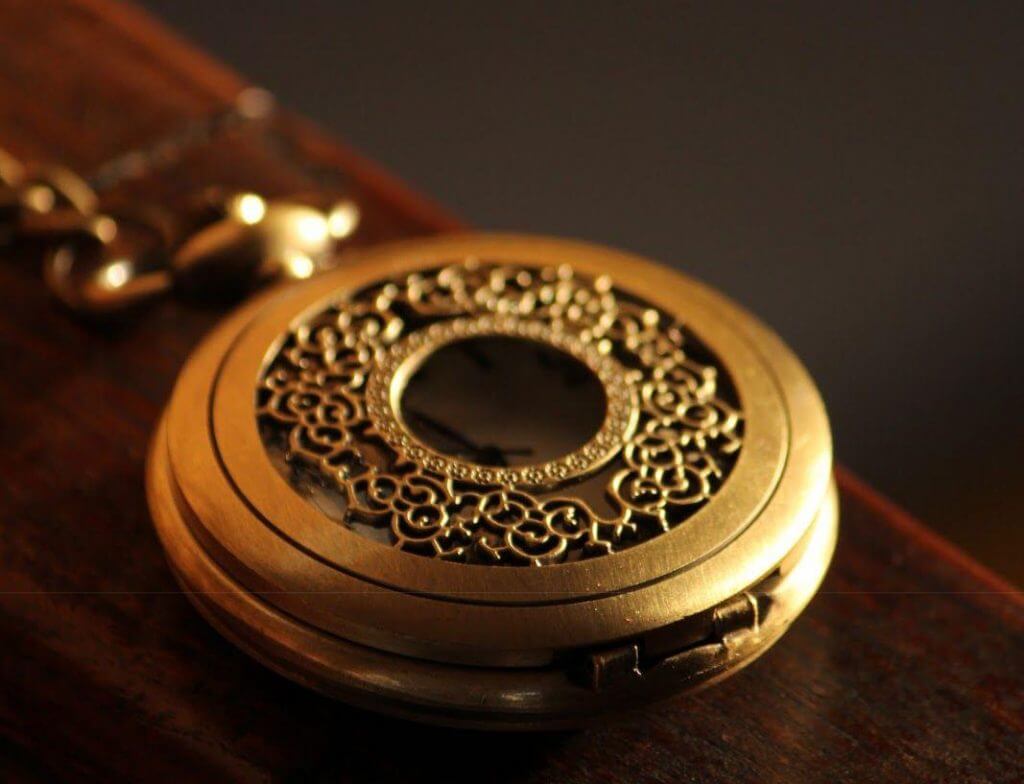 Locket necklaces always seem to come with an aura of mystery. A photo of a loved one, a tiny memento or simply a pocket watch – these little amulets are good for a casual outing, worn over scoops and square necklines.
8. Lariat
Another stylish type of necklace to pair with a low neckline – the lariat has Y-shape appearance and features no clasp. The ends are looped, knotted or crossed over which add a fun bit of drama to your personal style.
9. Princess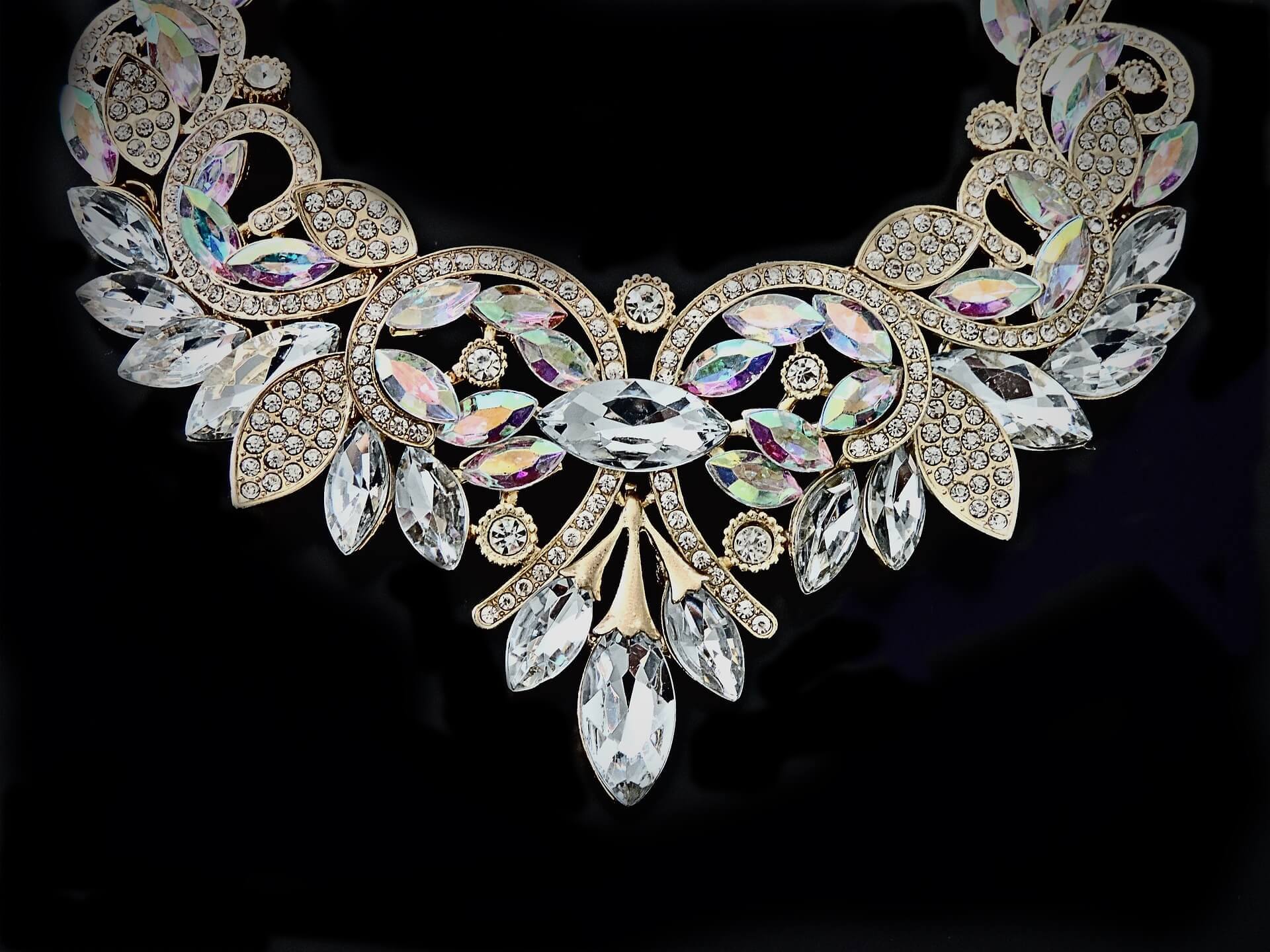 As the name suggests, the princess necklace is a style of necklace that exudes royalty. These necklaces feature shimmering stones in a variety of shapes and sizes, all of which lead down to a central drop piece. It's best paired with a strapless gown or a plunging neckline, and perfect for gala events such as weddings.
10. Chain
The most minimalistic and versatile type of necklace: the simple chain. Ideal for daily wear, chain necklaces can be paired perfectly with formal wear as well as cute dainty dresses – not to mention, they work with all kinds of necklines, and are available in various lengths and metals.
11. Lavaliere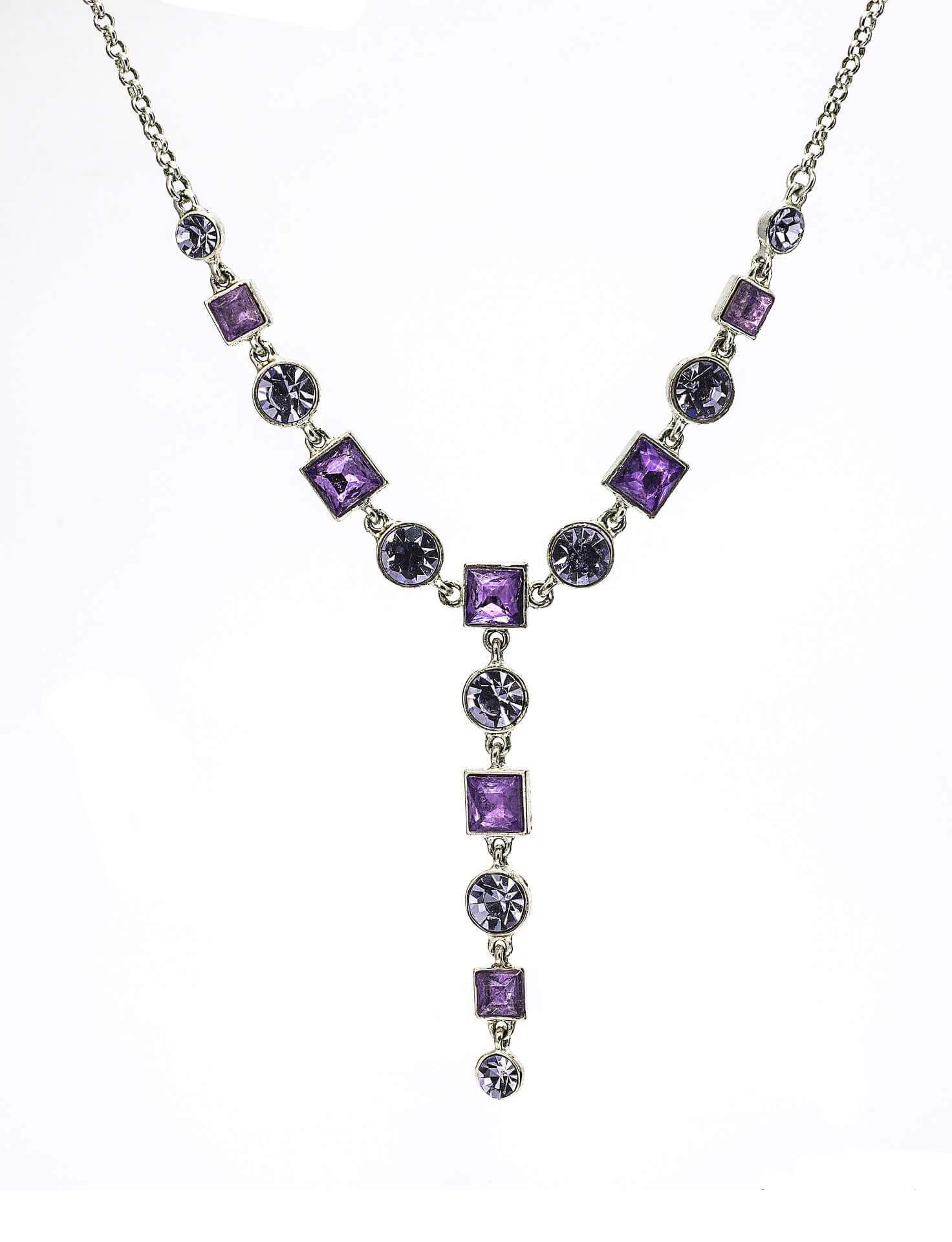 The lavaliere necklace is about 14-19 inches in length, features a chandelier-like drop which looks fabulous when with a deep cut neckline. However, these necklaces work with various other necklines too as they sit below the collarbone.
12. Negligee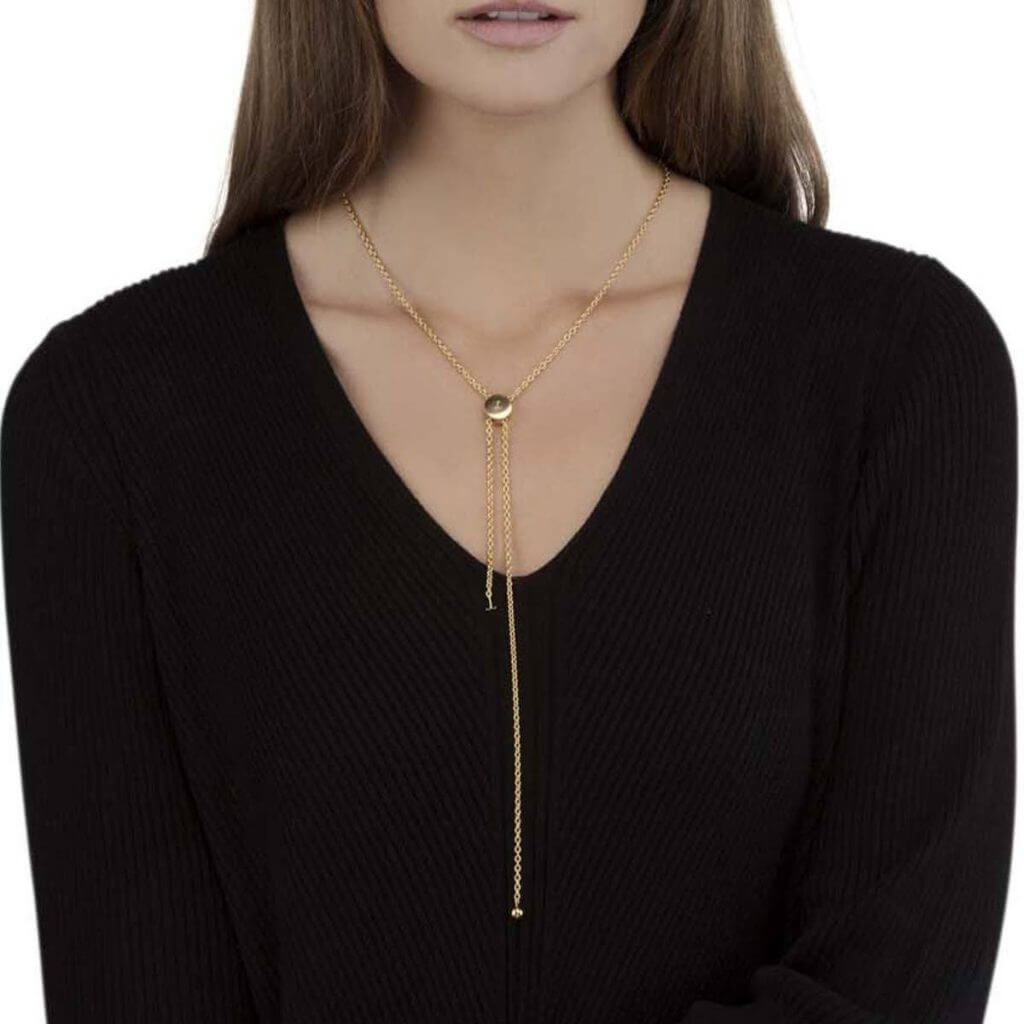 The negligee necklace is a long necklace which is characterized by the asymmetrical length of its drops or tassels. Pair these delicate and feminine necklaces with shimmery outfits to complement the glam with some elegance. Off-shoulder and sweetheart necklines call for a negligee necklace.
13. Riviere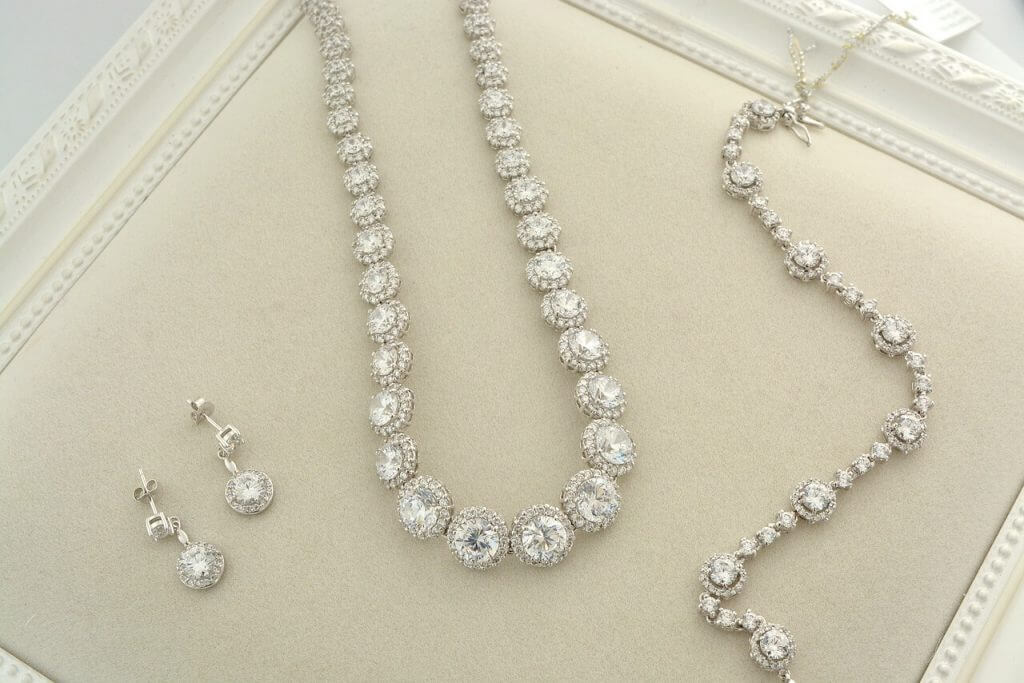 Riviere necklace is essentially precious or semi-precious gemstones stringed together with similar dimensions or with smooth graduation in size. They are usually between 14-16" in length and go well with V-neck or strapless dresses. Given that there's no central ornamentation, these necklaces are a sleek and elegant choice to jazz up your outfit for cocktail parties.
14. Festoon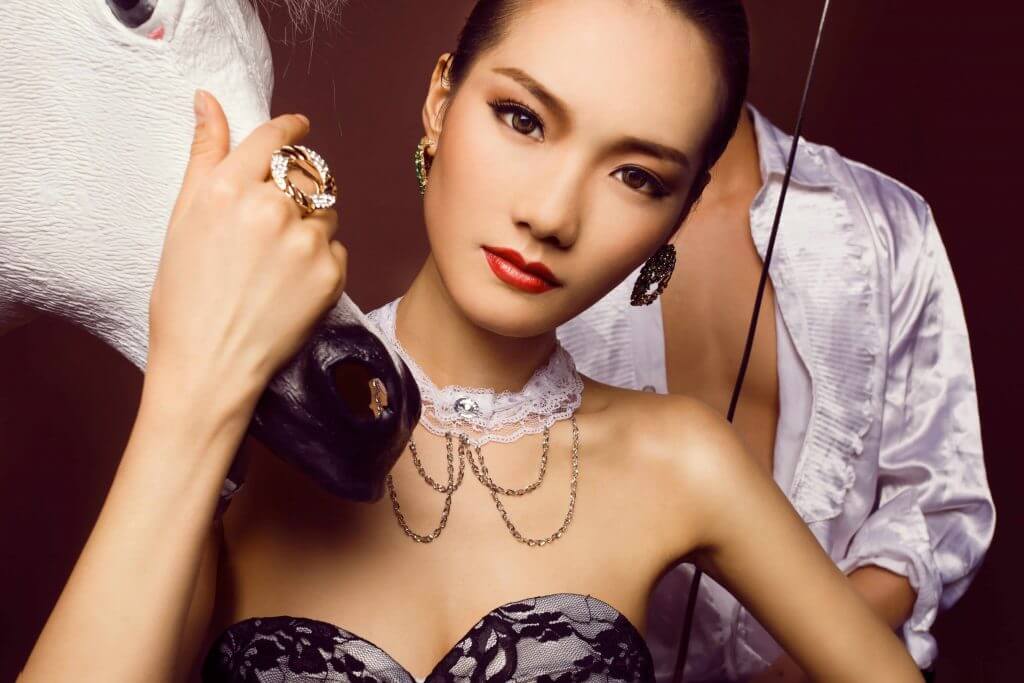 The festoon type necklace is a vintage style that resembles a garland with drapes of chains, gemstones and other ornaments. It's paired perfectly with off shoulder dresses.
15. Rope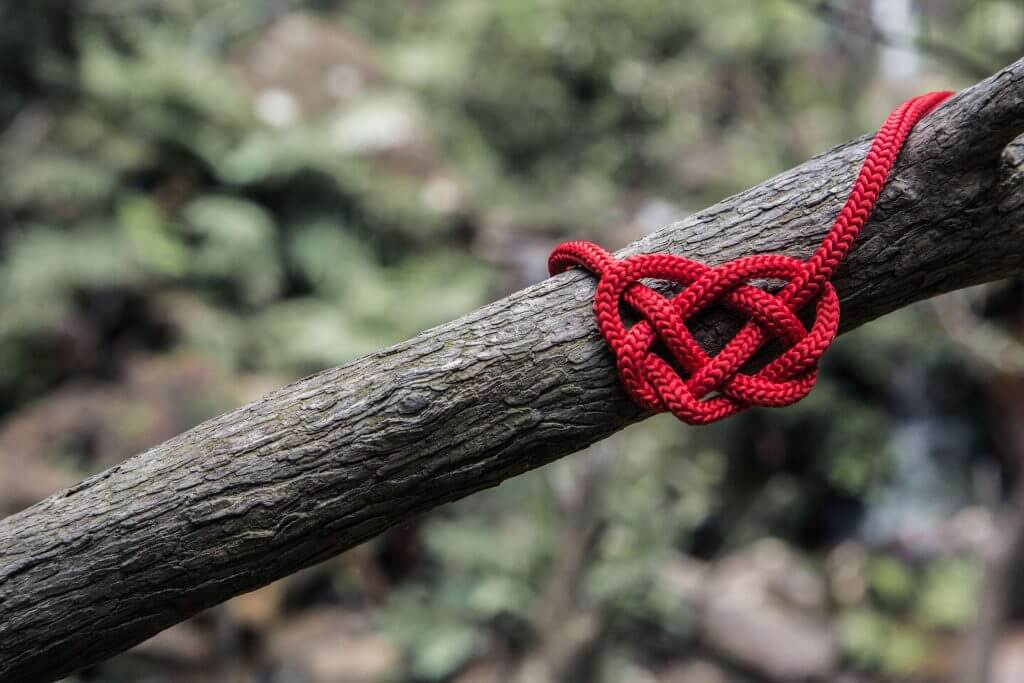 The rope necklace is straight out of the boho fashionistas handbook. These are lightweight necklaces that are generally long, above 30" at least but shorter versions are also available.
16. Thread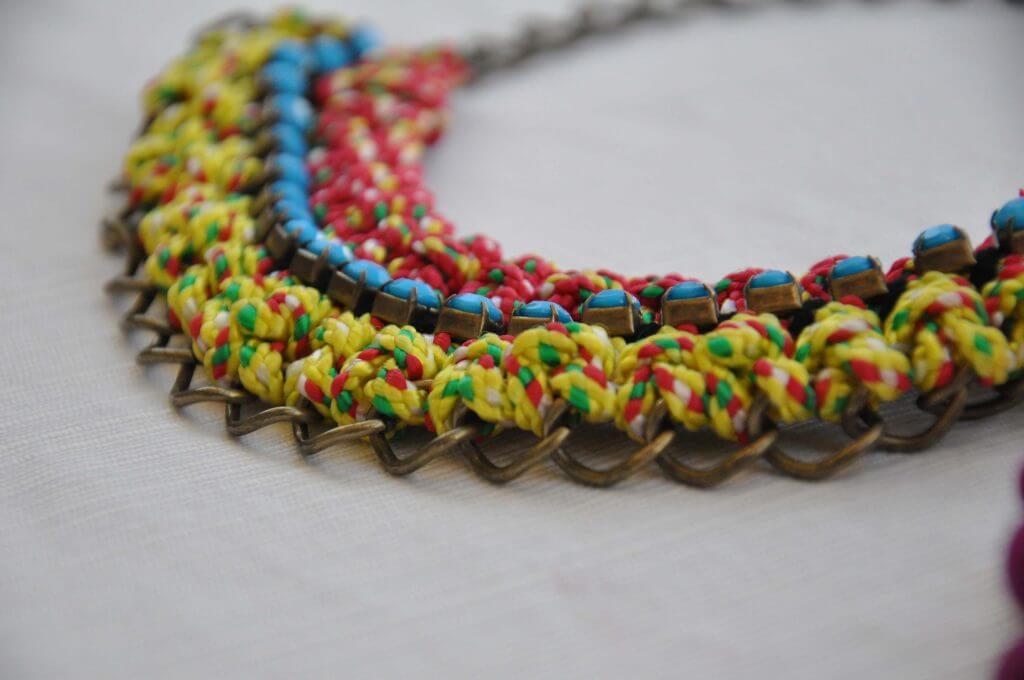 Thread necklaces are stylish pieces characterized by colorful threads tied together to form the necklace pattern. These are a unique, artful addition to your concert outfit and sit well with t-shirts that have round or boat necks. It's a beautiful choice for all those who love handmade jewellery.
17. Bib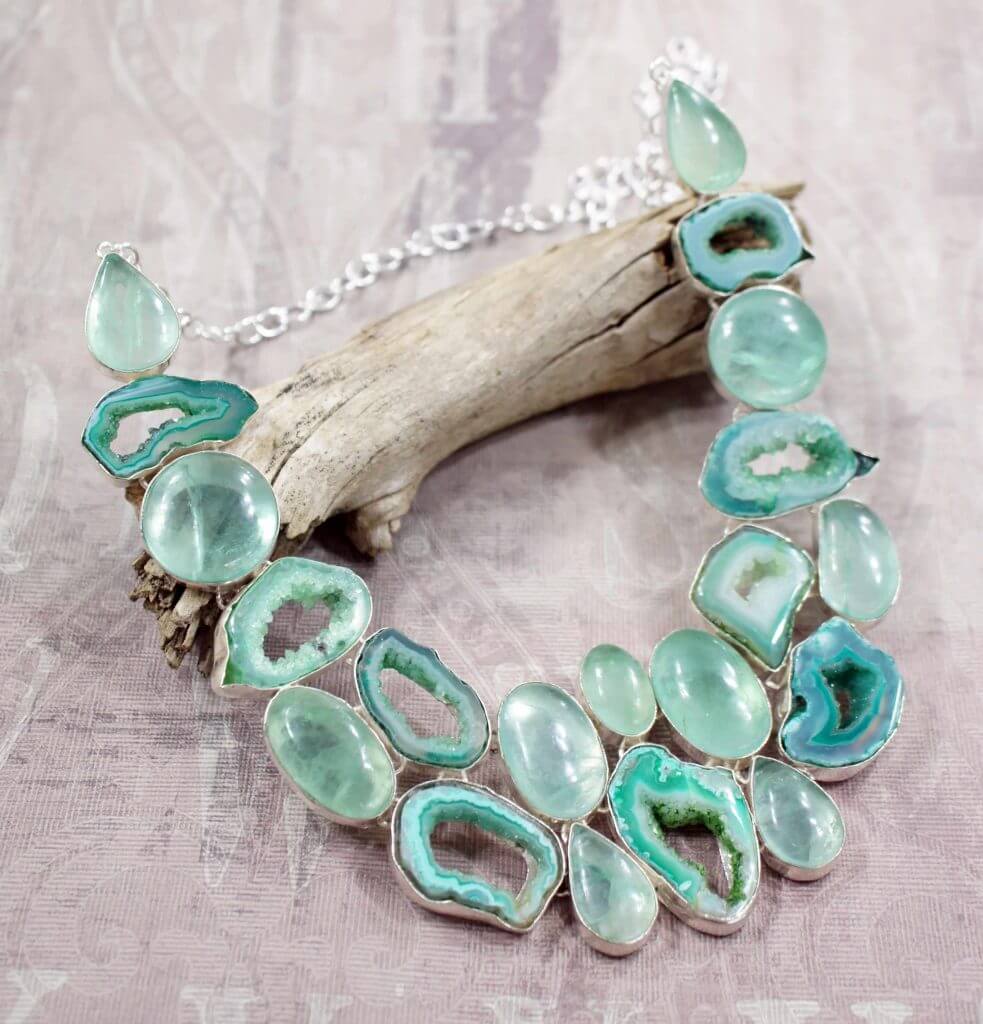 Just like a bib, these necklaces have a wide portion resting below the collarbones and narrower frame around the neck. Made of pearls, gemstones or beads, bib necklaces make for great statement pieces.
18. Plastron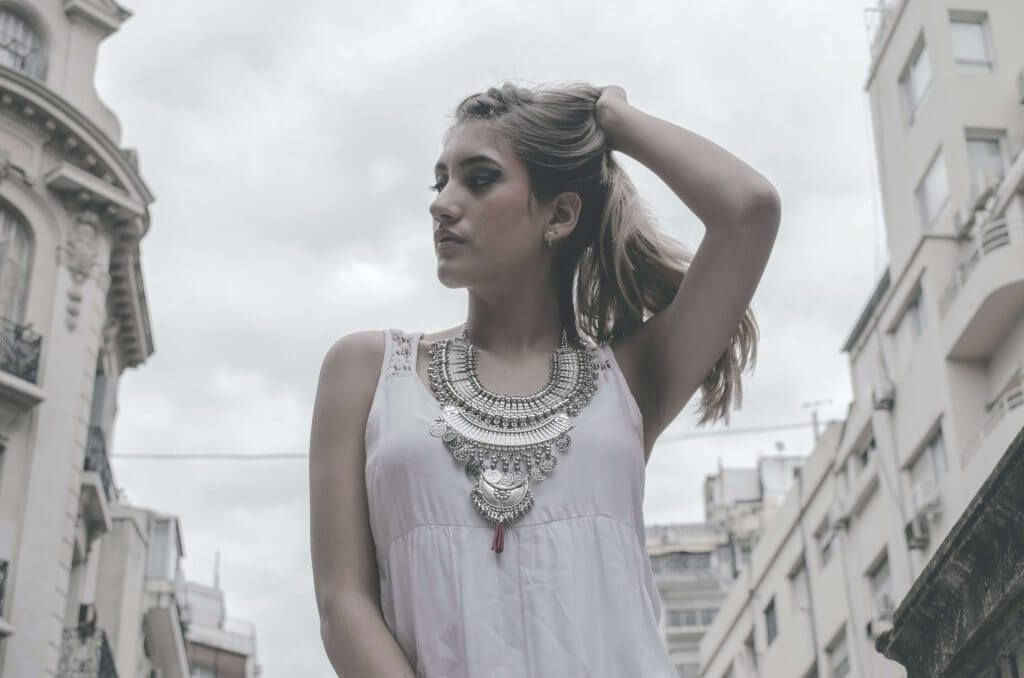 Plastron necklaces are large necklaces that cover a wide area above the bust line. They are best paired with solid colours and instantly jazz up a plain outfit.
19. Sautoir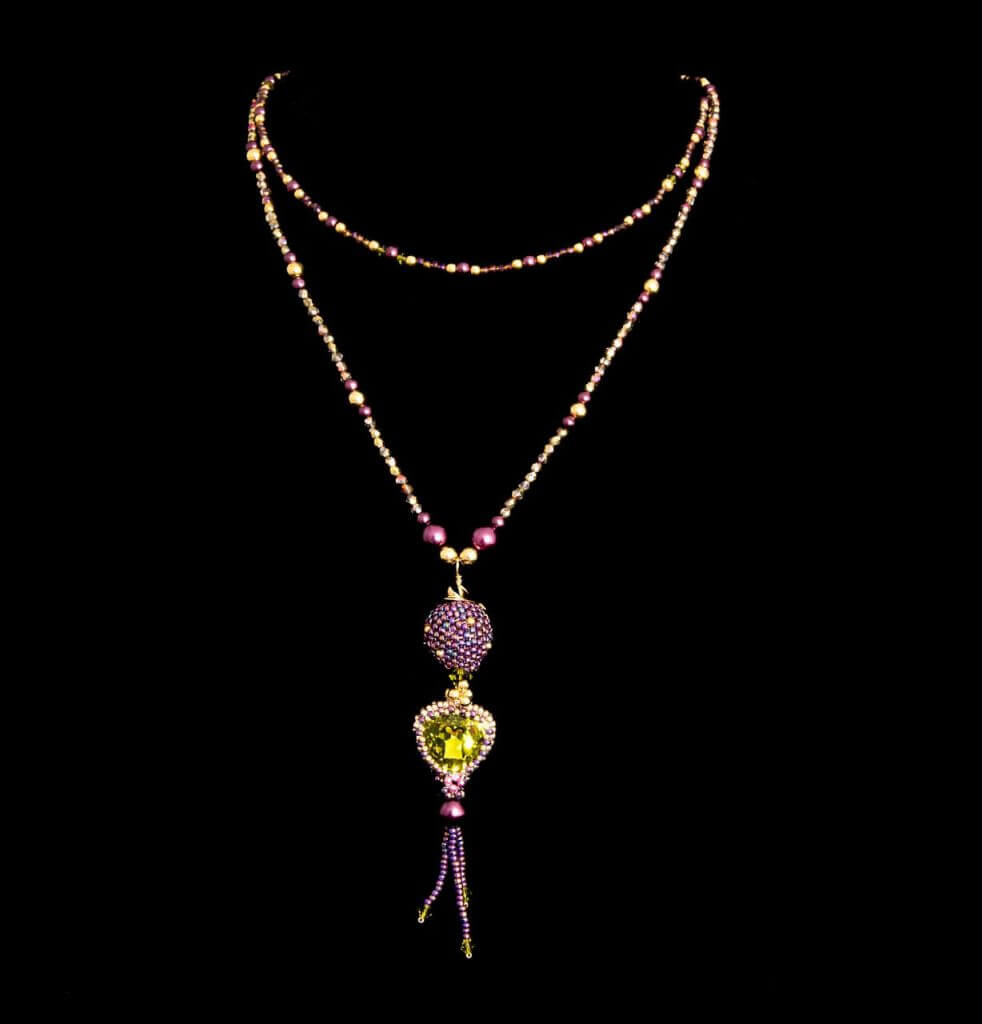 Sautoir is a long necklace in which an ornamental pendant, or perhaps a tassel is suspended over the bust area. At 30-36" the sautoir type is paired with scoop neck, v-neck and off-shoulder.
20. Torque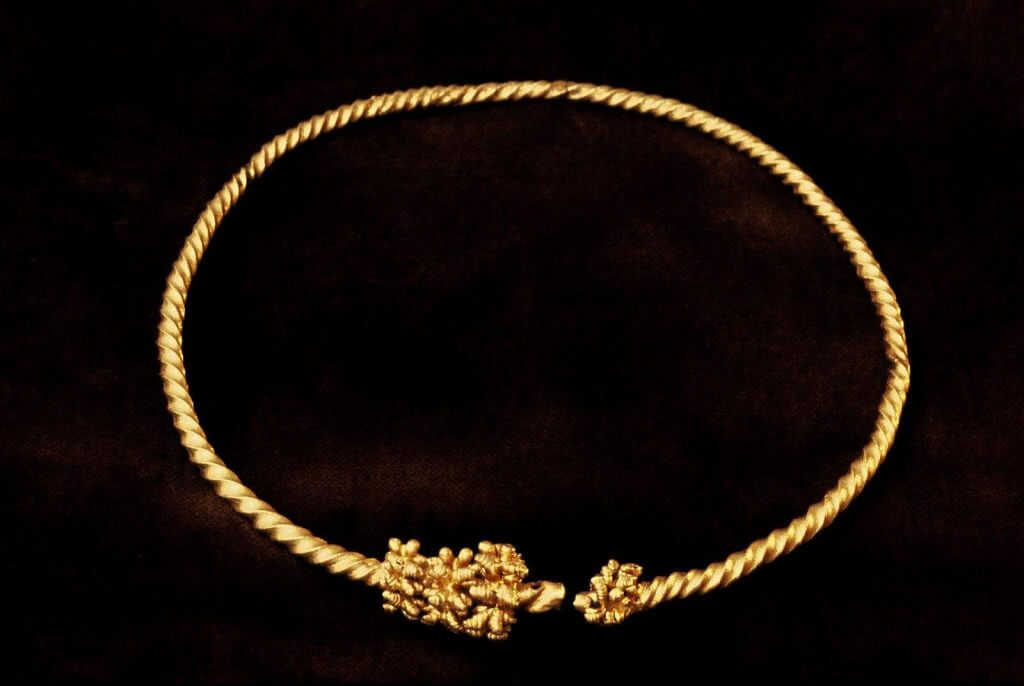 The torque necklace is a solid metallic ring for the neck with an open front and no clasp. It's a good choice to pair with a plunging neckline or even a V-neck.
21. Twisted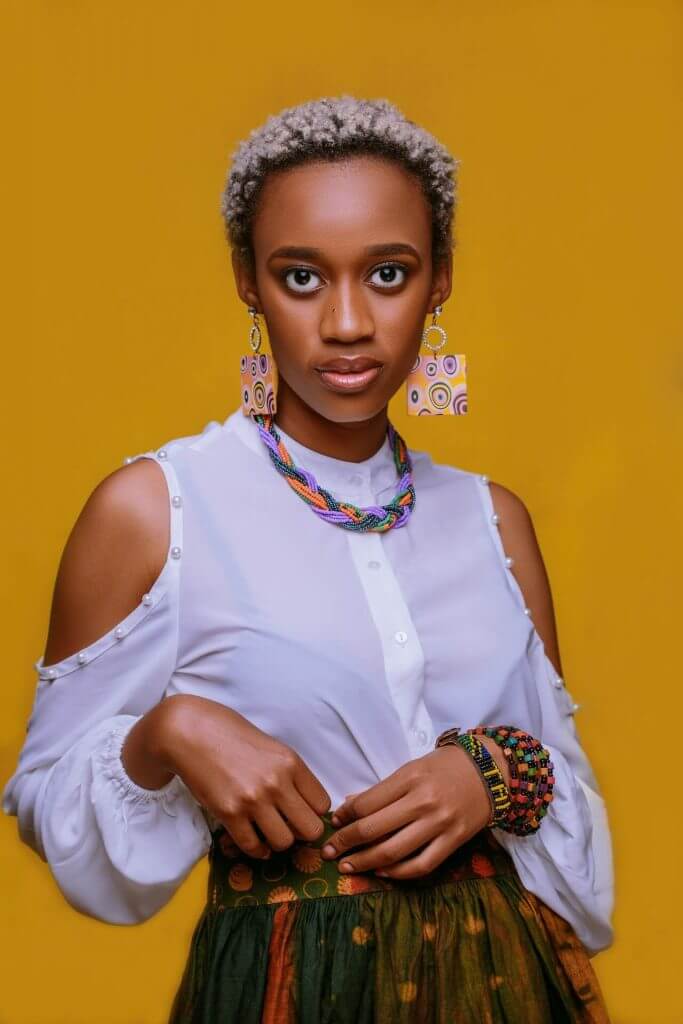 A necklace made of beads, wire and fabric twisted together in gorgeous colourful harmony. These twisted necklaces are a fun accessory for a fun picnic in the park or a trip to the beach and can be paired with solid colours and all necklines.
Frequently Asked Questions
What are the different types of necklaces?
Pendant, choker, princess, collar, charm, opera, bib, matinee, lariat, multi chain, locket, negligee, chain and rope are some of the popular and common types of necklaces.
What do you call a necklace without a clasp?
A necklace without a clasp is called a Lariat necklace or even a rope necklace. At around 34 inches, these necklaces are quite longer than the opera length and can be easily looped around the neck.
What is the most popular necklace length?
Necklaces for women are generally sold in lengths of even inches. The most common sizes range from 14" to 22", with an 18" necklace being an ideal choice that sits quite beautifully on the collarbone.
What are necklaces made out of?
Necklaces can be made out of a variety of materials such as metal, pearls, beads, gemstones etc. Necklaces can be of flexible forms such as chains and stringed forms, as well as non flexible forms such embellished bands of metals.
What is a princess necklace?
Usually encrusted with expensive stones, princess necklaces are luxurious neck pieces that fall in between a choker and a matinee style necklace, lengthwise. Ideally around the 18 inch mark, a princess necklace is set apart by a central drop or focal piece right below the collar bones.
What are the different types of necklace chains?
Necklace chains can be of various types such as ball, cable, rolo, box, rope, mariner, snake style, byzantine, curb and figaro.
How many types of necklaces are there?
There are over twenty different types of necklaces available in the market.
What is the best place to buy gold chains?
You can buy gold chains from your local jewellery store or a trusted online store with good reviews, certifications and a solid returns policy.